Researchers move closer to deciphering blood clots from AstraZeneca, J&J's Covid-19 vaccines ENDPOINTS NEWS
Jason Mast Dec 3, 2021
Researchers may be nearing an answer for the mysterious and life-threatening blood clots that appeared on very rare occasions in people who received the J&J or AstraZeneca Covid-19 vaccine.
The new work builds on an early hypothesis researchers in Norway put forward last spring, when the cases first cropped up. They proposed the events were similar to blood clots that can occur in a small subset of patients who receive heparin, one of the most commonly used blood thinners.
In those patients, heparin binds to a protein floating in the blood called platelet factor 4, or PF4, to form a complex. The body recognizes that complex as foreign and begins making antibodies against PF4, triggering a cascade of events. The Norwegian researchers' smoking gun? People who took the J&J or AstraZeneca vaccine and then suffered life-threatening blood clots also test positive for anti-PF4 antibodies, just as patients with heparin-induced clots do.
But that still left a raft of questions. Most notably: What about these vaccines are causing patients to make antibodies against PF4, a completely unrelated protein?
New work from the Mayo Clinic, Arizona State University, and Cardiff University, published this week in Science points to an answer, as well as potential ways of building new vaccines without the same issue.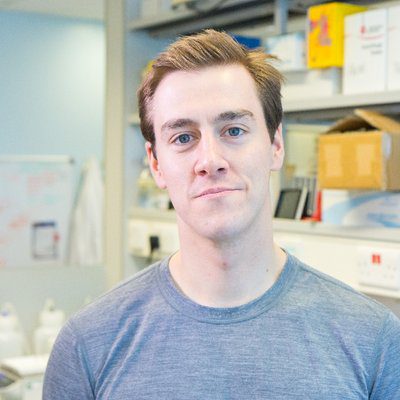 Alexander Baker
After reports of the blood clots emerged, Alexander Baker, a researcher at Mayo who focuses on engineering viruses for therapies and vaccines, decided to take a closer look at the AstraZeneca vaccine's structure. Both J&J and AstraZeneca are viral-vector vaccines. In each case, developers took different versions of a common cold virus called adenovirus, neutered them so they can't replicate or cause symptoms like a normal virus, and used them as carrier pigeons to deliver the instructions for our cells to produce coronavirus spike protein.
"It seemed reasonable that there was some kind of interaction between the vaccine and [PF4]," Baker told Endpoints News. "But it had not been shown robustly."
So Baker and his collaborators used a technique called cryo-electron microscopy to look at the AstraZeneca vaccine at an unprecedentedly close scale. They froze the virus to ultra-cool temperatures — less than -180 degrees Celsius — and fired electrons at different angles to get an image of it from different vantage points.
Structure of AstraZeneca vaccine reconstructed from Cryo-Em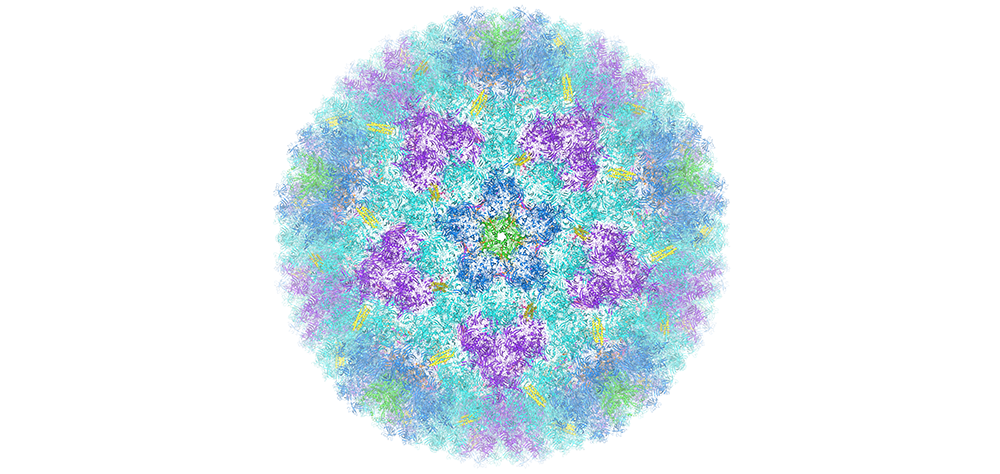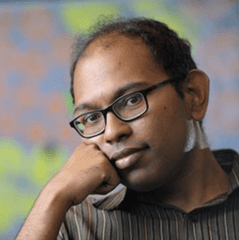 Abhishek Singharoy
They then stitched those different snapshots to construct a 3D image of the virus' soccer-ball-shaped outer shell. With help from Abhishek Singharoy, a structural biologist at ASU, they determined the atom-by-atom breakdown within the shell.
Using computer simulations, they modeled how that shell would interact in water with a PF4 antibody. Sure enough, it was "regularly forming interactions with the PF4 antibody," Baker said.
At that point, the groups put the work out as a preprint attracting the attention of AstraZeneca executives, who were also trying to decipher the mysterious condition set off by their vaccine. With the company's help, Baker was able to run a study on a micro-chip to prove out their computer simulation.
Essentially, they strapped the virus to the chip and flowed solution containing a PF4 protein over it. Sure enough, the PF4 latched onto the virus, albeit not too tightly.
"It has moderate binding affinity, which is to say it ain't that strong, but it ain't that weak," Baker said.
That suggests the virus hasn't evolved to target PF4. Instead, there's a tragic accidental alignment between the shape of the proteins on the virus and the shape of the human protein.
It also helps reconstruct a plausible story for how the clotting events occur. The AstraZeneca or J&J shot is injected into the muscle in your shoulder. Then, one of two things happens: Either it goes into the bloodstream because it accidentally nicks a vein (as most shots do), or the body drains the virus from your muscle into your lymphatic system, which drains and circulates certain fluid around the body.
In either event, the virus is then exposed to PF4, which is always circulating at low levels but is even more present in inflamed environments, such as directly after a vaccination. The virus binds to PF4 and then drags the human protein on its journey through the body to the lymph nodes, the hub of the immune system.
Researchers have shown that a very small subset of patients has, for whatever reason, pre-existing B cells that can make antibodies against PF4. Once the virus drags it into the lymph nodes, the B cells start churning out those antibodies.
Because antibodies have two arms that can each bind to different PF4 proteins, you end up "grouping together clusters of PF4," Baker said. "And when this happens, it can over-activate platelets. And from that point, platelets become activated and do what they're supposed to do — you start forming clots."
The problem is that the clots are forming in the absence of a wound or the "proper environment," he said.
Fortunately, their work points to a possible solution. The virus' soccer ball shell is studded with little protein loops that interact with other proteins. If researchers can pin down exactly how they bind to PF4, they might be able to swap out amino acids to produce a virus that's still functional for vaccines but can't bind to PF4 or cause blood clots.
In the meantime, though, these vaccines are still safe and effective, Baker noted. And the risk of blood clots from Covid-19 — along with all the other risks the disease brings — far outstrips the risk from the shot.
"So you're much better off getting your vaccine," he said.
Jason Mast Dec 3, 2021